By Erin Frank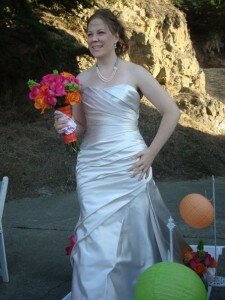 Alterations are tricky. I've heard horror stories of brides whose dresses were ruined by sloppy, irreversible alterations, the results of which are generally revealed only right before the wedding (i.e. when it's too late to do anything other than wear it unhappily or drop a ton of cash on a new dress at the last minute). I've also heard from brides who were hustled out of the bridal salon by a harried seamstress without a final fitting, only to find their last-minute fixes were never made and the bridal shop closed.
Tips for "Smooth Alterations":
Shop early for the following and bring them to each fitting: Shoes, veil, jewelry (especially a necklace, as this might affect the neckline of the finished dress), and any slimming or enhancing undergarments you plan to wear.
Ensure deadlines are appropriate. Deadlines and multiple fittings are key to getting a dress altered well and on time. Take your dress in for alterations no later than 6 or 8 weeks before the wedding to allow enough time to get the job done.
Don't diet yourself out of your dress size. You're doing yourself and your seamstress a disservice by creating a last minute crisis situation when that dress is falling off of your newly bony frame.
Ask the right questions. There are no "dumb" questions when it comes to your wedding day. Make sure you understand exactly what work will be done when, when your final fitting is, when you can pick up your dress, and whether or not the alterations shop will press your dress for you before pick-up. Always try the dress on one last time to confirm that final changes or repairs were indeed made as you requested.
For my October wedding last year, I took my dress to SF's Novella Bridal (www.novellabridal.com). I loved the results. I had ordered a dress with a tight fit that accommodated my disproportionately large lower half, which meant there was a lot to take in on the top. Knowing this, I wanted to go somewhere with great word of mouth that was friendly to dresses bought from other bridal salons (I had recently moved to SF and bought my dress before leaving New York). I enjoyed their professionalism, the timing, and the amazing finished dress.
Where do you think is the best place for bridal alterations in the Bay Area? Have you had a wedding dress mishap thanks to a careless seamstress? Share your experiences in the comments below!