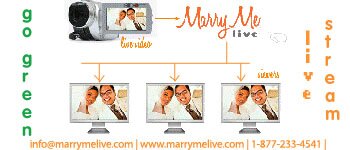 Marry Me Live
Marry Me Live offers live wedding streaming and wedding webcasts enabling wedding couples to share their wedding day. No matter the last-minute cancellations, or relatives unable to travel, all the guests can "attend the wedding".
Phone: 1 (877) 233 – 4541
Email:
Website: www.marrymelive.com

Michelle Olivera
Capture your moments forever in HD quality video. High quality videography and editing services so that your special occasion can be replayed with all of the laughter, music and voices that were there the day it all began.
Phone: 1 (707) 478 – 3426
Email:
Website: http://www.michelleolivera.com