As a loyal reader of Bay Area Bride Guide, you know that you can count on us to provide Bay Area brides with information about local vendors and locations, DIY tips, and the latest news about the Bay Area wedding industry. In addition to all of those, we love offering you opportunities to take some time for yourself and relax! For the next two weeks (July 5th-July 18th), when you post a comment anywhere on the site, you are automatically entered to win a one night stay at the El Dorado Hotel in Sonoma and dinner for two at their fabulous restaurant, the El Dorado Kitchen.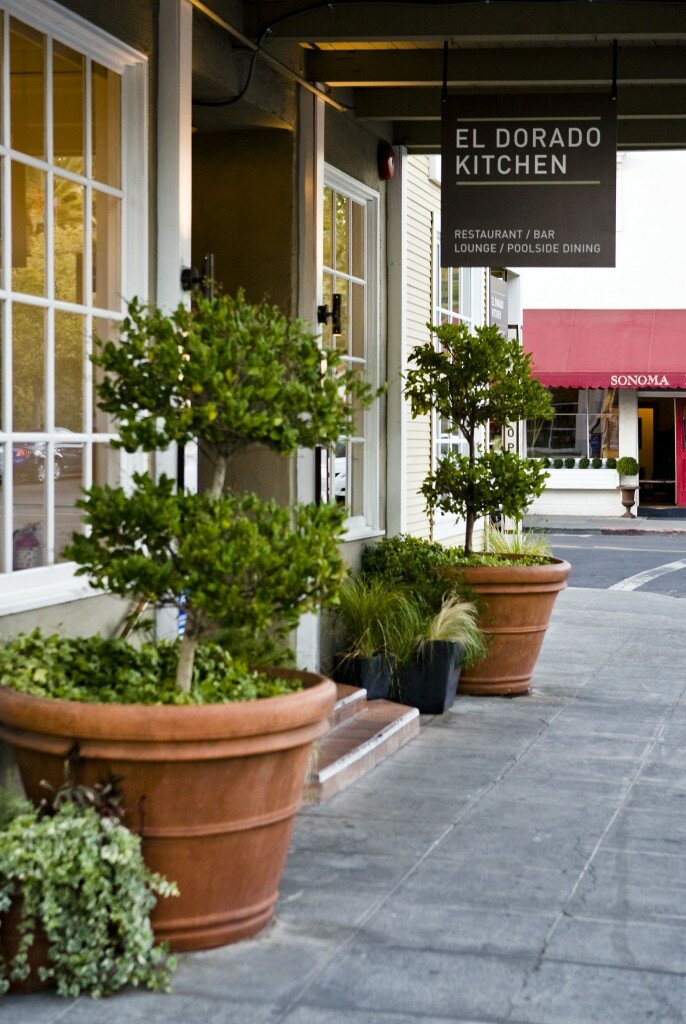 The El Dorado Hotel and Kitchen in Sonoma, California:
The El Dorado Kitchen offers a variety of options for your wedding, with the numerous seating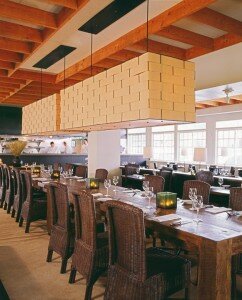 arrangements comfortably accommodating parties from 22 up to as many as 250 guests. These options include the use of the Fireplace Lounge and Fig Tree Courtyard, the private dining room, the bridge table (running down the center of the restaurant), and a semi-private portion of the main dining room. Event coordinator Angie Bettinelli will work with you to help you choose the best option for you and your guests, as well as coordinate between the hotel and your vendors to make sure everything runs smoothly.
Just off the hotel lobby is the fireplace lounge. Aside from the main focus, the fireplace, there are numerous bookshelves covered with vases, behind which you can see a portion of the original building.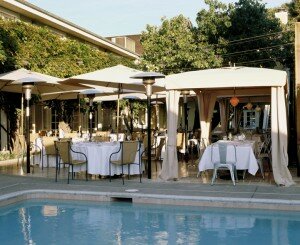 This cozy room can be made even cozier by closing it off from the rest of the lobby, and you also have the option of opening the doors to the Fig Tree Courtyard, which makes it perfect for rehearsal dinners, brunches, or small receptions.
Finally, and most importantly…the food is incredible! The mouth-watering menus all look fantastic, making it nearly impossible to narrow down your choices. Their dinner offerings include seared ahi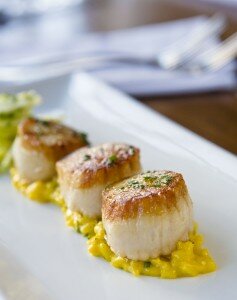 tuna, truffle risotto, and red wine braised short ribs, all of which are served with a variety of side dishes. Their brunch and lunch choices are equally impressive and include steamed mussels, chopped chicken salad, or a la carte brunch stations with fruit, pastries, and brioche bites. Another great thing about the El Dorado Kitchen is that when possible, the food prepared at the El Dorado Kitchen is made from organic and locally grown produce, helping to green your wedding day.
The variety of options, wonderful food, and friendly staff, make the El Dorado Kitchen a great place to host a bachelorette party, rehearsal dinner, wedding reception, wedding ceremony, or a post wedding brunch.
After partying the night away downstairs, take to your room for some relaxation. The El Dorado Hotel is situated in the heart of Sonoma in an historic, 150 year old building. The refurbished hotel is green certified and has all the luxuries of a modern day hotel, while maintaining its old-town feel. The 27 guest rooms come fully-stocked with the typical TV, iPod clock, and mini-refrigerator, but the slanted ceilings, colorful walls, and the use of real keys all help keep its charm. If you have your wedding at the hotel, you can work with Angie to reserve a block of rooms for yourself and your guests.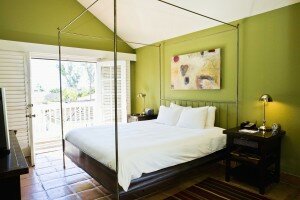 Enter to win a free night stay at the hotel and dinner for two so you can check it out for yourself!
Sonoma El Dorado Hotel and El Dorado Kitchen:
405 First Street West
Sonoma, California 95476
Angie Bettinelli, at – 707-996-3030
Contest rules:
To enter you must post a comment on

Bay Area Bride Guide

between July 5th and July 18th.
There is no limit to the number of entries you can have, but if it is determined your entries were not legimitate, you will be disqualified.
A winner will be chosen at random on July 19th and announced on the site.