A few weeks ago I was wonderfully introduced by my friend Lynn to Lilac Dress Boutique out in Alameda. I was able to spend a few hours drooling over the selection of fabulous bridal gowns, cocktail dresses, and adorable accessories. The best part was hanging with Pilar, the shop's owner and watching her work. Check out her glowing reviews on Yelp and you will understand – this woman GETS dresses.
I watched an attractive woman in her 50's come in looking for a mother of the bride dress for her son's outdoor winery wedding. Pilar pulled some great finds, and helped the woman in the most amazing way accentuate her assets – it was so fun to watch her try on dresses! Pilar is the best friend you take along with you dress shopping – helping you choose things for the dressing room that you normally wouldn't try on and give you an honest response – when it's good or not so good! The woman left feeling confident and radiant in a great flowing print dress that was perfect for the occasion and fit her like a glove.
In terms of bridal, Pilar's selections lean toward the sheath and A-line dresses. She also carries a line of the most beautiful eco couture dresses I have ever seen – certified organic fabrics and recycled lace.
I plan to head back there soon as I had my eye on this adorable silver and white number she has in the window with my name on it…
You must visit this store for that sweet summer sundress or a hot little number for a night out on the town and if you are a bride, Pilar will help you find the dress of your dreams.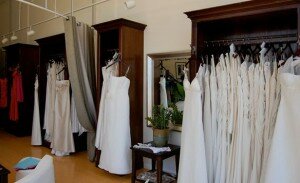 Lilac Dress Boutique
1918 Encinal Ave
Alameda, CA
510-865-2544
Tues-Sat 10am -5pm
Photo source: Trisha Dean